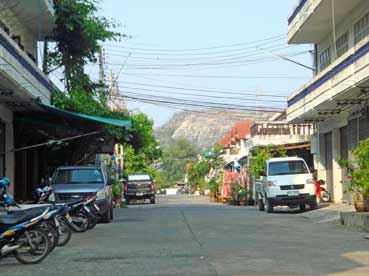 view down my soi
Well, I'm a 61 year old (yikes!) living in Thailand, in Prachuab Khiri Khan province about three hours south-west of Bangkok. I rent a townhouse on a quiet soi (side street) about 1/4 mile from the beach. (Feel free to write me for the specific address – if you can convince me I'd want you to visit.)
My hobbies and activities are few. I occasionally turn into a ball of sloth, but normally I enjoy getting out for fresh air for long walks.
Because I traveled for a living for so long, I prefer to spend my time in my own little home. The last thing I really want to see is the inside of another airplane and/or another hotel room.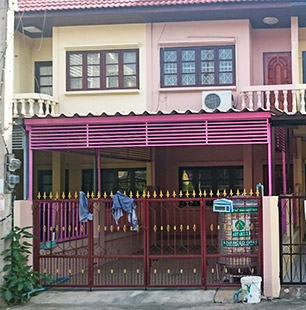 home
I'm not at all into the bar or nightlife scene any more, which is quite a contrast from decades past. I have nothing against an occasional drink or seven now and then, but I'm just not enamored by sitting in a smoky, noisy bar. It is fun to take out-of-town guests to visit Patpong in Bangkok or Walking Street in Pattaya and let them enjoy some of the "unique" shows, however.
I'm quite happily single these days, not dating nor looking. However, the door is always open to opportunity, so theoretically that might change.
I moved to Thailand in June 2001, after having lived in Tokyo for several years. (If you subtract the time that I moved back to the USA twice for short times, I lived in Japan a little over five years.)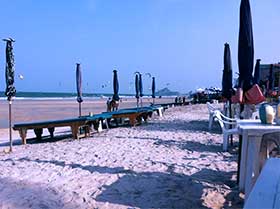 the local beach
I had been planning my retirement for quite some time, and moved to Thailand to consider the practicality and desirability of living here full-time. I have always enjoyed visiting here. You know the saying: "Nice place to visit, but I wouldn't want to live here?" Well, that is not the case for me here in Thailand — I like living here!
As you can read in my blog, I lived in México for a while to see how I would like it. I liked it about as much as Thailand, but pretty much on a coin toss I decided to return to Thailand. Probably the deciding factor was that all my stuff was still in Thailand, and the thought of moving it all was just too overwhelming.
(For the statistically-oriented: I'm 5'9" (175cm), about 210lbs (95kg), with brown hair and brown eyes.)
Okay, I have no idea what else to say. So, tell me: what would you like to know about me?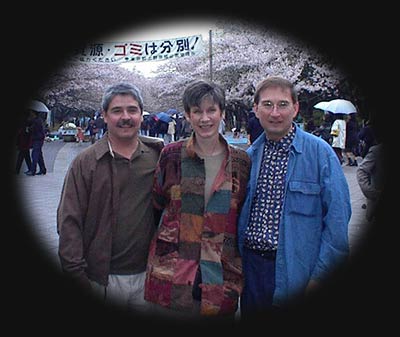 Ueno park (Tokyo): cherry blossoms, rain, and great memories...
write to me at: me@wpcoe.com,
or not